Calvin Coolidge in 100 Objects and 2022 Quabbin calendar signing with J. R. Greene
Tuesday, December 7 6:30 pm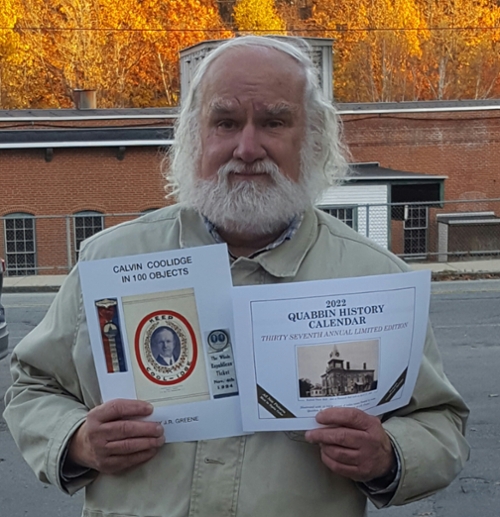 Calvin Coolidge in 100 Objects and 2022 Quabbin calendar signing
with J. R. Greene
Tuesday, December 7
6:30 pm
Join us for the launch of J.R. Greene's new book, Calvin Coolidge in 100 Objects, and the 37th annual edition of his Quabbin History Calendar.

There will be a brief slide program regarding both items, which will be available for purchase along with his previous publications. Greene will autograph.

The Coolidge book is Greene's fourth publication on the 30th President, who was a VT native, but spent most of his life as a resident of Northampton. The book includes illustrations of documents, letters, campaign and speech pamphlets, and souvenirs of events relating to Coolidge. These are accompanied by illustrations of some of the events, and descriptions of them.

The calendar depicts twelve scenes from the valley destroyed for the construction of the Quabbin Reservoir in the 1930's - 40's. These include a school, store, summer camp, and two scenes relating to the centennial of the town of Prescott, held in 1922. Part of the proceeds from book and calendar sales will be donated to the Friends of the Athol Library.

The book sells for $19.95 and the calendar for $16.95. Greene can accept cash or checks.
Free and open to the public.
Registration appreciated but not required.
Please call 978-249-9515 to reserve your spot.
Posted: to Athol Library News on Thu, Nov 18, 2021
Updated: Wed, Dec 8, 2021