Bing Crosby: King of the Christmas Crooners!
Thursday, December 9, 2021 from 6:00 - 7:00 pm. Registration required!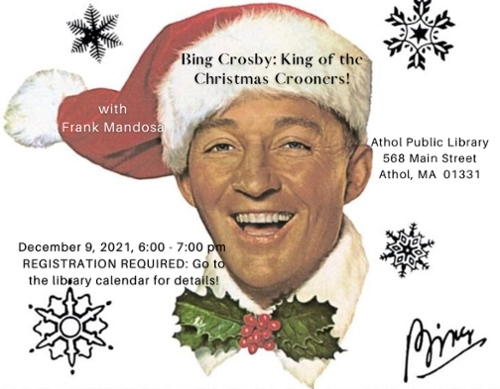 Bing Crosby: King of the Christmas Crooners!
You're invited to a behind-the-scenes look at the Oscar winning actor/singer's life and career with a focus on his holiday-themed films, Holiday Inn, Going My Way, The Bells of St. Mary's, and White Christmas. This is a one-hour slideshow presentation with film lecturer, Frank Mandosa.
Frank Mandosa is a full-time high school English teacher with a lifelong love for cinema. Since 2012 he has been presenting on a wide variety of film-related topics. In the past he has hosted both an Academy Awards lecture and horror film lecture at the Athol Public Library. Mandosa has taught courses in cinema at Project Contemporary Competitiveness (PCC) and in the high school classroom. Please visit frankmandosa.weebly.com for more information.
Sponsored by the Friends of the Athol Public Library, this program is free and open to the public. Due to popularity of programs, registration is required; there will be a sign-in table at the door. You can register online with our new library calendar: https://live-athol.pantheonsite.io/events/bing-crosby-king-christmas-crooners-frank-mandosa.

You will recieve an email confirmation, and an email reminder of the event 24 hours before the program. Questions? Please call the library at 978-249-9515.
Posted: to Athol Library News on Mon, Nov 29, 2021
Updated: Fri, Dec 10, 2021