Washington Irving's The Legend of Sleepy Hollow!
Thursday, October 5 @ 6:00.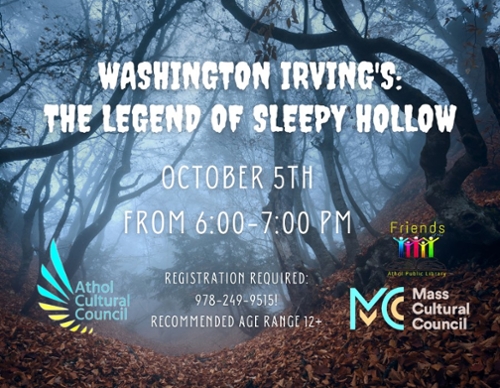 Join the Athol Public Library at 568 Main Street, Athol, on Thursday, October 5th from 6:00 – 7:00 p.m., when we welcome professional actor J.T. Turner for a reading of The Legend of Sleepy Hollow.

The headless horseman rides again as J.T. Turner portrays Washington Irving in period costume telling his most famous tale, The Legend of Sleepy Hollow. Taking on all the roles of this Halloween tale, Turner has adapted the piece to keep everyone entertained. It is story theater at its best! This program is recommended for ages 12+. Registration is required!

Performer J.T. Turner is an award-winning professional actor, director, and writer, with credits on stage, screen, and audio. A member of SAG-AFTRA and Actors Equity, J.T. is also a historical re-enactor, touring theaters, museums, schools, libraries, and senior centers in original shows about Charles Dickens, Benjamin Franklin, F. Scott Fitzgerald, Robert Frost, William Shakespeare, Washington Irving, John Muir, and more.

His original play, Within These Walls, was featured at the Smithsonian Museum of American History, and he has been a historical consultant for the Travel Channel. For more information go to, www.jtturner.org.

This program is sponsored in part by the Friends of the Athol Public Library and in part by the Athol Cultural Council, which is a part of the Massachusetts Cultural Council, a state agency.

Free and open to the public. Registration required!
You can register online with our library calendar: https://athol.librarycalendar.com/event/washington-irvings-legend-sleepy-hollow.

You will receive an email confirmation, and an email reminder of the event 24 hours before the program. Questions? Please call the library at 978-249-9515.
Posted: to Athol Library News on Mon, Sep 11, 2023
Updated: Thu, Oct 5, 2023