November Booked For Lunch Selection
Monday, November 27 at Noon: The Secret Book of Flora Lea by Patti Callahan Henry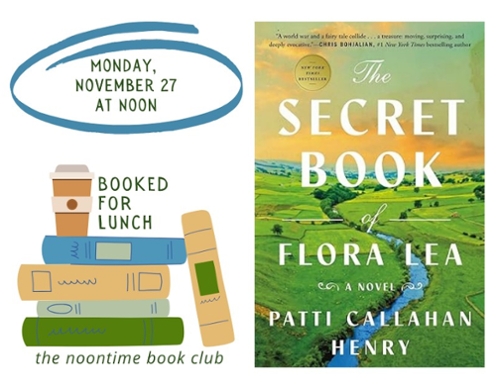 This November we will be discussing
The Secret Book of Flora Lea
, the latest novel from author Patti Callahan Henry that Kirkus calls "an enchanting tribute to the power of storytelling."
When Hazel discovers a rare book that has connections to her past, long-held secrets about her missing sister Flora and their childhood spent in the English countryside during World War II are revealed. Hazel's tidy life is turned upside down when she unwraps a package containing an illustrated book called
Whisperwood and the River of Stars
. Hazel never told a soul about the imaginary world she created just for Flora. Could this book solve the mystery of Flora's disappearance? Could it be a sign that her beloved sister is still alive after all these years?
As Hazel embarks on a feverish quest, revisiting long-dormant relationships and bravely opening wounds from her past, her career and future hang in the balance. An astonishing twist ultimately reveals the truth in this transporting and refreshingly original novel about the bond between sisters, the complications of conflicted love, and the enduring magic of storytelling.
Visit the author's comprehensive
book club guide
for details about the author, her research, discussion questions, and more. Regular and large-print copies are available now at the adult circulation desk. Digital editions are available for download using Libby. Join the discussion in person or online via Zoom, on Monday, November 27 at noon. Registration is encouraged using our
calendar
or by email at
RBrzozowski@cwmars.org
.
Posted: to Athol Library News on Mon, Nov 13, 2023
Updated: Fri, Nov 17, 2023